Newspaper review: Opinion divided on exam reforms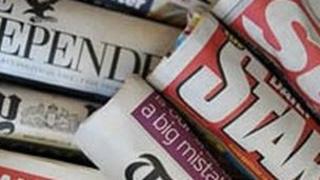 Opinion is divided on Michael Gove's proposals for an overhaul of secondary school qualifications in England. The Financial Times says they do not pass the test but he might get an A for effort.
The Independent thinks the Education Secretary has some good ideas - and some that need more thought.
The Guardian urges him to do some more revision and prepare for a re-sit. The Times says his plans could earn him an A but there is the potential for an F.
Written off
The Daily Mirror's main concern is that replacing GCSEs with two exams - one for high achievers and another for less able pupils - would brand hundreds of thousands of children as second-rate from the age of 14.
The Financial Times says there's a risk these children will be written off.
But the Daily Telegraph thinks the one-size-fits-all system has failed pupils at both ends of the spectrum.
The Daily Mail says Mr Gove's plans would drag Britain back up the international league tables.
Tax gags
The controversy over the tax affairs of comedian Jimmy Carr continues to attract widespread interest and nowhere more so than among his fellow comics.
The Sun's lead says Mr Carr was given a "mauling" by colleagues at a recording of his TV show, "8 out of 10 Cats".
The audience burst into laughter as he was ribbed mercilessly. But it seems he took it all in good spirits.
According to the Daily Mirror, he responded: "I've been dishing it out for years, it's about time I got some."
Greece v Germany
There's much interest in the Euro 2012 clash between Germany and Greece.
The Times thinks it must be some kind of joke by the football gods, given the tensions on the political field.
The Guardian points out many Greeks blame Germany for the severity of the austerity measures they are enduring.
With the German Chancellor, Angela Merkel, attending the match the Daily Telegraph wonders whether the new Greek Prime Minister, Antonis Samaras, will also be there.