NatWest, RBS and Ulster Bank branches tackle backlog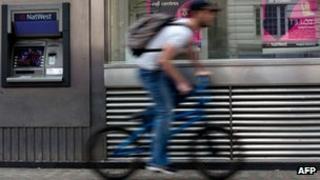 Some 1,200 NatWest, RBS and Ulster Bank branches have opened on a Sunday for the first time, after a computer glitch affected millions of customers.
The technical fault - now fixed - left many customers unable to access their accounts or make transactions.
RBS and NatWest branches were open until noon and Ulster Bank an hour later to help clear a backlog.
RBS said updating customer accounts had taken longer than expected but online services are now fully operational.
"I can confirm that we are making progress to clear the backlog of payments and I'm cautiously optimistic that RBS and NatWest customer account balances will be largely back to normal from tomorrow," said Susan Allen, director of customer service at RBS Group.
"We will automatically waive any overdraft fees or charges on current accounts. This will be processed over the next few days.
"We will work directly with credit agencies to ensure no-one has their credit score affected."
The problem began on Tuesday and is believed to have arisen after staff tried to install a software update on RBS's payment processing system, but ended up corrupting it.
More than 1,300 NatWest, RBS and Ulster Bank branches stayed open until 16:00 or 18:00 on Saturday.
RBS chief executive Stephen Hester apologised for the technical problems, saying customers had been let down and his group's priority was to "put things right".
NatWest and Ulster Bank are part of the RBS group, but the problem has not been confined to customers of these banks, because other people whose transactions involve banks in this group have also been affected.
The Financial Ombudsman Service has said that anyone affected should keep a record of how they were financially disadvantaged.
Anyone unhappy with how their bank was responding to their concerns could make a complaint to them, a spokesman said.
Banks are obliged to return affected customers to the position they should have been in had the problem not occurred.
NatWest has 7.5 million personal banking customers and said a large number had been affected. Ulster Bank said earlier that 100,000 of its customers had been affected.