Michael Brown has prison sentence extended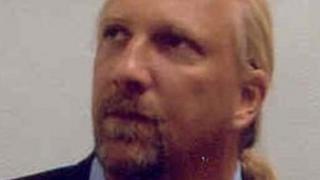 Convicted fraudster and former Liberal Democrat donor Michael Brown has had his seven-year prison sentence increased by six months.
The extension comes after he was extradited to the UK from Spain in April, having previously been on the run in the Caribbean.
He was convicted in his absence in November 2008 of stealing $8.5m (£5.2m) after posing as a bond dealer.
Brown, 46, donated £2.4m to the Lib Dems before the 2005 general election.
He was arrested in the tourist town of Punta Cana in the Dominican Republic in January over an unrelated fraud charge.
Local police said he had been living in the Caribbean state under the name of Darren Nally.
Brown went on the run to the Dominican Republic in 2008, sparking an international manhunt, after stealing millions from clients including former Manchester United chairman Martin Edwards.
He had posed as a highly successful bond dealer and claimed connections with royalty.
Brown's donation to the Liberal Democrats' election war chest - its largest ever donation - was funded through the use of investors' money.
The Electoral Commission ruled in 2009 that the party could keep the money.
It found the Lib Dems had accepted the fraudster's donation in good faith and cleared the party of all wrongdoing.