Libyan deported after PC Fletcher murder wants UK asylum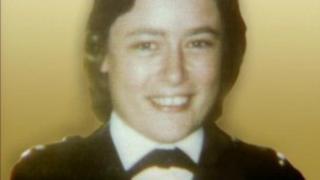 A Libyan deported from Britain after the murder of PC Yvonne Fletcher in 1984 and now wanted in his home country is seeking asylum in the UK.
Saleh Ibrahim Mabrouk, said to have been close to Colonel Gaddafi, is not a suspect in the murder but is suspected of misusing Libyan state funds.
The UK government deported Dr Ibrahim - who denies any wrongdoing - in 1984, saying his presence in Britain "was not conducive to the public good".
The Home Office declined to comment.
Dr Ibrahim was with demonstrators outside the Libyan embassy in London on the morning PC Fletcher was shot. He was once a high-ranking member of Colonel Gaddafi's Revolutionary Committees, known for their brutality in crushing opposition to the Gaddafi regime.
He was originally allowed to return to Britain as part of a Foreign Office initiative to improve Anglo-Libyan relations. The agreement was part of a wide-ranging deal negotiated by former Foreign Secretary Robin Cook to bring the Libyan Lockerbie suspects to trial.
'$200m for mercenaries'
Dr Ibrahim is currently wanted by Libya's transitional government and is number 107 on its list of individuals suspected of misusing state funds.
Abdulhamid El-Jedi, who has been investigating corruption on behalf of Libya's deputy prime minister, told Radio 4's File on 4 programme he believes Dr Ibrahim left Libya a few days before the fall of Tripoli, carrying around $200m (£130m).
He says he thinks Dr Ibrahim was on a mission to the Balkan states to hire mercenaries for Colonel Gaddafi.
Dr Ibrahim denies the charge, saying he visited Croatia and Serbia on a peace mission.
Although he has an influential position as dean of Tripoli's Academy of Higher Education, Dr Ibrahim claims he has never received state funds.
'Show me proof'
In an exclusive interview with File on 4, Dr Ibrahim said: "I challenge them if I even have $20,000 let alone the $200m they are talking about.
"Let them produce proof. They haven't caught me withdrawing cash from a bank or in an airport with cash on me."
The Libyan authorities say they would like help from the British police in finding evidence of Saleh Ibrahim's financial affairs. They believe that any property he owns in Britain should be frozen and returned to the state.
Retired police officer John Murray, who was serving alongside PC Fletcher when she was shot, agrees that British authorities should help the Libyan investigation.
"If we can assist the Libyans with this man, that must surely help the investigation for Yvonne Fletcher and get more co-operation from the Libyans," he said.
Dr Ibrahim, who is currently living in the south of England with his wife, says he has been coming to the UK since 2000 when he began studying for a doctorate.
The former Gaddafi loyalist is understood to have returned to Libya since completing his studies, but left shortly before Colonel Gaddafi was killed by rebel militia in October 2011.
He says he is now applying for political asylum and has applied for a visa at the British embassy in the normal way. He says has been in contact with the Metropolitan Police, although he cannot remember the last time they interviewed him.
Two weeks ago a Metropolitan Police team travelled to Tripoli to discuss PC Fletcher's murder investigation with Libyan officials.
Former colleague of PC Fletcher John Murray says Dr Ibrahim should be arrested: "If the police, the Home Office, the government know where he is, and he's in the UK, then surely he should be arrested and interviewed."
"He's got to have vital information because he was there at the time. He should certainly be invited in for questioning if nothing else."
Speaking for the first time about why he had been allowed back into the country, Dr Ibrahim said: "What's the problem in this? I'm very prepared to be investigated."
The Metropolitan Police say they will not comment on individual cases.
Listen to the full report onFile on 4onBBC Radio 4 on Tuesday, 3 July at 20:00 BST and Sunday 8 July at 17:00 BST. Listen again via the Radio 4websiteor download the File on 4podcast.