Newspaper review: Headlines focus on fuel duty freeze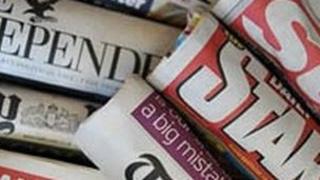 The chancellor's decision to freeze fuel duty until the end of the year divides opinions in Wednesday's papers.
The Daily Telegraph's cartoon depicts Mr Osborne as "Lonesome George", the recently deceased giant tortoise, with "Plan A" written on his shell.
However, in its comment column it says the move was right as it will help family budgets and encourage spending.
The Times fears what it calls "another Budget U-turn" will damage the government's fiscal credibility.
The Guardian says the publication of the Lords reform bill provides the best chance in years of "breathing the will of the people" into part of Parliament which remains sheltered from it.
It says that Nick Clegg, heartened by Cabinet support, has told his aides: "It really is game on."
The decision by Labour Leader Ed Miliband to back the measure is commended by the Independent.
But the Daily Telegraph says up to 100 Conservative backbenchers are poised to rebel.
The Financial Times says senior representatives of the City of London fear it has been damaged by David Cameron's strategy at last December's European Union summit.
The prime minister refused to sign a new fiscal treaty at the meeting.
Meanwhile, the Daily Mirror argues that the Health Secretary, Andrew Lansley, must not let financially struggling hospitals go bankrupt or cut staff.
If banks are bailed out, it argues, saving the NHS is a "no-brainer".
Images of the Spice Girls grace the front of the Sun and Daily Express.
Sixteen years after their first hit, the women were promoting a new West End musical featuring their songs.
Meanwhile, several papers hail gravely wounded Afghan veteran Ben Parkinson, who carried the Olympic Torch through Doncaster on Tuesday.
The Daily Mail says Lance Bombardier Parkinson, who has artificial legs, battled for 27 painful and exhausting minutes to carry the torch 300 metres.