'You just had to get on with it'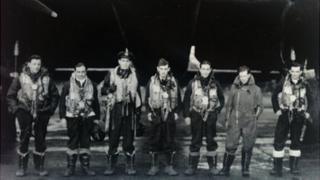 On the day the Queen unveils a memorial in London to the men of Bomber Command, Bob Walker has been speaking to some of the veterans of a campaign that still provokes fierce emotions on both sides. And he uncovers a personal link with a lost crew.
The old wartime runway at what used to be RAF Wickenby is still there. The weeds have grown through the cracked concrete and one end is covered by chicken sheds.
There is a road now in place of a perimeter track where the great Lancaster bombers would rumble from their dispersal points. But the control tower is still much as it was back in 1944, and is now used by a light aircraft club.
Among the bushes and shrubs, you can still see tumble-down huts, air-raid shelters, and a wrecked church.
At the entrance is a memorial, an airman falling to the ground like Icarus, a symbol of the 1,080 men of 12 and 626 Squadrons who took off from this runway and never returned.
The crew of Lancaster ND410 PH-Y was typical of the mix of men who made up Bomber Command - an Oxford-educated pilot, a Cambridge-educated navigator, a Canadian bomb aimer, and the gunners - a delivery boy from Derbyshire and a shoemaker from Manchester.
The wireless operator was a former telephone engineer who would never get to know his unborn son. And there was also a rugby-playing flight engineer from Gloucestershire called Tom Roe.
Married with two little girls, Tom Roe was also my great uncle.
The night of 19 February 1944 was a disaster for Bomber Command. The raid on Leipzig cost 79 aircraft, most carrying seven men. The dead that night included the crew of ND 410 PH-Y, almost certainly shot down by a night fighter as they neared the Dutch coast on the way home. Only three bodies were ever recovered. Or identified.
They were among the 55,500 Bomber Command aircrew killed during the RAF's intensive air campaign. The unlucky ones.
It seems somehow fitting that the unveiling of the memorial will include a fly-past by Tornados from the present-day 12 Squadron.
Most of the survivors are now in their late 80s and 90s. For them this memorial has taken far too long. They bridle at the controversy that still rages over the area bombing campaign masterminded by their commander, Sir Arthur Harris, known to the crews as Butch, or Butcher, Harris because of the high casualty rate among his airmen.
Although the debate will continue over the morality of the bombing, the fire-storms that destroyed Dresden and Hamburg, and the death of hundreds of thousands of civilians, there is surely no doubt about the courage of the bomber crews.
Jim Flint is now 99 years old. Early in the war, his Hampden bomber was attacked over the sea. Losing height he decided to crash-land on water rather than risk his bomber hitting a town or city. He dragged his wounded navigator from the rapidly sinking plane and somehow got him to the shore. For that he was awarded the George Medal.
After recovering in hospital he went back to flying and completed two tours of operations when most were unable to make it through one.
He says: "You didn't know whether you would get back. Some people have asked me since why I took so long to get married. Well it was for the simple reason that, although I was sitting there that day, I didn't know whether I'd be sitting there tomorrow.
"If you were lucky you came back. You were either going to live or die. If you started thinking, 'I don't want to go because I might get killed,' well, you couldn't possibly live like that.
Ninety-four-year-old Sqn Ldr John Mitchell has the remarkable distinction of crashing on operations over France on the day war broke out, 3 September 1939, and still carrying out attacks over Berlin five years later.
As the war dragged on and the casualties mounted, he lost more and more friends. He particularly remembers the possessions of lost comrades being collected and put into sacks before replacement crews would arrive.
"A whole crew would disappear and a roomful of airmen would be noticed missing the next day," he says.
"Some were very close friends."
At the age of 87, Phil Tetlow is one of the younger survivors. He took part in three attacks on the German pocket battleship Tirpitz, holed up in a fjord in Norway. He watched as the ship began to capsize.
Phil lost many friends but says he became hardened to the losses. There was no outward show of emotion, no referral for counselling.
"You just had to get on with it," he says.
"On New Year's Day, 1945, two of our aircraft crashed and burned on take-off, but that didn't stop us. The squadron just had to carry on and take off as those two planes were burning beneath them."
Douglas Hudson also went through two tours of operations and survived the three missions that brought Bomber Command its highest losses, including Leipzig and the worst of them all - Nuremberg.
And, referring to what he believes is the under-valuing of Bomber Command, he says: "On that one night we lost 97 aircraft over the target area and another 13 failed to reach base. We lost more men on that one night than the whole of Fighter Command lost in the Battle of Britain.
"When it was all over and Germany had been defeated there was very little recognition or appreciation of Bomber Command.
"In fact it was the reverse, we were criticised for killing people. It was terrible.
"War is war and we had to win. If people are in the wrong place at the wrong time then that is a sad fact of war."