Newspaper review: Barclays resignation considered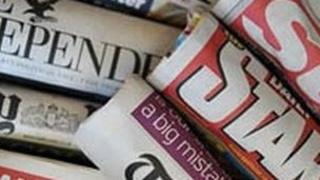 The resignation of Barclays chairman Marcus Agius is reported on most front pages and makes the lead for several of them.
The Financial Times says Mr Agius is resigning in the hope his departure will take the sting out of the mounting criticism of Barclays from politicians.
For the Daily Mail the move appears designed to try to ease pressure on the bank's chief executive, Bob Diamond.
The Daily Mirror says Mr Agius is "taking a bullet" for Mr Diamond.
David Cameron's suggestion of the possibility of a referendum about Europe is the main story for the Daily Express .
It says the PM is under massive pressure to name the date for a vote.
Commons majority
The Mail and The Sun report that Mr Cameron is considering holding it on the same day as the next general election in 2015.
The thinking - according to the Mail - is that it could help to deliver the Conservatives a Commons majority.
The Guardian leads on its joint study with the London School of Economics on the riots in England last August.
The investigation highlights findings that police expect a repeat of the unrest and are concerned about whether they will have the resources to cope.
It says officers cited worsening social conditions as the potential causes.
Party venue
The Mail, the Express and the Sun welcome the home secretary's changes to the test taken by foreign nationals who wish to become British citizens.
Shed of the Year winner John Plumridge, from Shropshire, tells the Express that his shed, which doubles up as a pub, is: "a great venue to party in and we haven't got too far to get home".
The Daily Telegraph says that for many men having a pub in their garden shed would be the perfect combination.
And there is good news for fans of Wimbledon hawk Rufus who was found three days after being stolen.
The Mail says the news was confirmed on Twitter to Rufus's 2,000 followers.
Several of the tabloids, like the Mirror , focus on a pending child custody battle between Tom Cruise and Katie Holmes.
Some papers focus on the result of the "Shed of the Year" title - won by a shed that doubles up as a pub.
Its owner, John Plumridge, from Shropshire, : "It's a great venue to party in and we haven't got too far to get home".