Thorny issues block progress on elderly care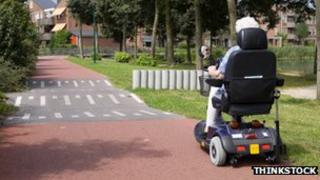 It is boom time for the mobility scooter industry.
The new millennium dawned to the electrical hum of around 70,000 powered wheelchair and scooter users in Britain. Today there are five times as many, with warnings of "mo-sco" gridlock in some of our more populous retirement villages.
Expect the hum to grow ever louder with the number of people over 80 in the UK, currently three million souls, to almost double by 2030 and hit eight million by 2050.
It should be a matter for celebration - we are living longer. But longevity often comes with poor health - on average, each person can expect to spend almost a quarter of life with a disability. We will need looking after - and that costs. Half of us face care bills of up to £20,000, but one in 10 will need to pay over £100,000.
The fact is we haven't yet worked out how to steer our society to a place where we can afford to care for our ageing population. The politics of the elderly appear to be conducted at the pace of a mobility scooter in a convoluted maze where every path is blocked by thorny issues.
It is a labyrinth the last Labour government failed to negotiate - only in its final days did it seek cross-party consensus to try and clear a way through.
As things stand, Scotland offers free care to all - but there are fears that's becoming unsustainable. Wales and Northern Ireland are waiting to see what happens in England where ministers are still studying the conclusions of the Dilnot Commission.
It is a year since economist Andrew Dilnot's panel sent the government his route map to an affordable and sustainable system of adult social care.
Noting how millions of elderly people fear everything they've saved in a lifetime will be gobbled up by nursing and personal care costs in their final few years, Dilnot's answer is a cap on what individuals would have to spend on care before the state picks up the tab.
Those with assets worth more than £100,000 should pay no more than £35,000, he argues. The annual cost would be an extra £1.7bn initially - a small price, it is suggested, for providing decency and fairness to our elderly.
But right now the Treasury can think of 1.7 billion reasons why they might not wish to expand already rising state spending on adult social care. "Where do people think the money is going to come from?" they ask.
The Dilnot commission offers three potential routes.
The first pathway is signposted "general taxation", but down here the terrain quickly becomes politically impassable.
The second is marked "reprioritise existing expenditure" - but raiding the budgets of already cash strapped public services to fund the care needs of people with at least £100,000 worth of assets also leads to spikey political territory.
The third Dilnot option has a sign which once read "specific tax increase paid by those who benefit directly from the reforms" but has been recently amended to read, simply, "granny taxes". The government has made it clear that, in this Parliament at least, it won't touch pensioners' winter fuel allowances, free bus passes or TV licences.
There is another route which is not marked on Dilnot's map. Officials confirm it is the main reason the ratio between England's working and retired populations has not become far worse over the last decade. It is the path signposted "immigration". This route, of course, is being actively closed off.
There is broad consensus that reform is vital. But, when it comes to finding the money, every turn in the maze is met by the thorny habit of a plant named "politica veritas".
The realities of daily politics mean it is now probable that Dilnot's route map will be filed away beyond the next election, the mobility scooter parked up in the long grass.