Newspaper review: Opinion split over Army cuts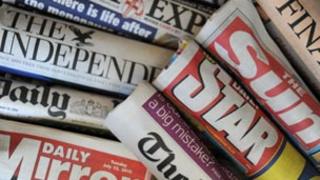 The announcement on Thursday that the regular Army is to be cut by 20,000 troops polarises opinion in the leader columns.
For the Guardian, the 20% reduction fits the nation's "war weary" mood after the UK's involvement in conflicts in Iraq and Afghanistan.
The Independent says the cuts are "grim" for service families, but means the UK will have an Army it can afford.
Under the headline "Wellington boot" , the Sun expresses its fury that Britain will have fewer troops than at any time since 1750.
Meanwhile, the Daily Telegraph argues the reduced capability is a "gamble we may all come to regret" . #
It adds that there has been no national debate about Britain withdrawing from its role as a major player in global affairs.
M6 'overkill'
The Daily Mail front page is dominated by a photograph of the lines of emergency vehicles blocking the M6 toll road during the terrorist false alarm.
Many papers are critical of the authorities. "Operation overkill" says the Mail, a "fiasco" declares the Daily Express while the Guardian puts it down to "pre-Olympic nerves" .
The Sun calls the episode on Thursday a "shambles" . The headline reads: "16 fire crew, 24 armed cops, troops, dogs, ambulances, M6 shut, 7-hour jams, £100,000 bill for bemused "terrorist" with fake ciggie".
The Times reports comments by the education secretary that some school governors are "local worthies", seeking a badge of status and the chance to waffle about faddy issues.
Meanwhile, the Telegraph has details of Michael Gove's plan to introduce what it calls a "back-to-basics" grammar test for 11-year olds to make sure they know the difference between nouns, verbs and adjectives.
Bum-fluff beard
Murray mania captures the imagination of many of Friday's papers.
"From suburban drawing rooms to saloon bars, the nation will come to a standstill" says the Express.
Andy Murray will attempt to become the first Briton for 74 years to reach the Wimbledon men's singles final.
The Times ' Simon Barnes believes the Scot is dealing well with the pressure, "stroking his bum-fluff beard and making those strange bagpipe noises that he uses for conversation with journalists".
Meanwhile The Sun is one of several papers to report that if you want to know where a woman comes from, look at her eyebrows.
"Fashion experts" says there is a "Scouse brow", a dark, heavy brow favoured by Wayne Rooney's wife, Coleen.
A more natural and less "panto dame" version is known as the "south brow", sported by Keira Knightley.
In the Midlands, a semi-circular "happy brow" is said to be popular, while Scots adopt a straighter style known simply as the "plank brow".