Rail punctuality: 'Fewer than 70% of trains' on time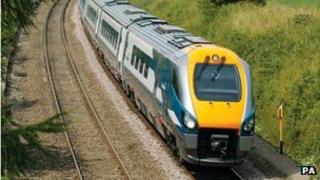 Fewer than 70% of trains run on time, "real" punctuality figures published by Network Rail (NR) suggest.
The statistics are based on services that arrive either early or within 59 seconds of the scheduled time.
The new figures show 69.8% of trains were on time during 2011/12, with only 59.7% of long-distance rail services being within the new limit.
Earlier surveys deemed short-distance trains punctual within five minutes, long-distance ones within 10 minutes.
Historic tables
On that basis, 91.6% of trains have been on time over the last 12 months, figures showed.
Applying the 59-seconds rule suggests that 70.3% of London and south-east England services were on time in 2011/12 and that 71% of regional services were on time.
NR also published tables going back to 2001/02 based on the new 59-seconds rule.
The national figure of 69.8% was an improvement on the 2010/11 figure of 69.6% but compared to 2009/10's figure of 70.2%.
The 2011/12 long-distance figure of just 59.7% was the worst since 2005/06 but better than 2001/02's figure of 38.4%, which followed the 2000 Hatfield rail crash and resulting speed restrictions on the rail network.
NR network operations managing director Robin Gisby said: "We are committed to improving punctuality as far as possible but as the numbers of passengers and trains continues to increase, it becomes ever more difficult to do.
"We will be open and honest with the public about our performance and the capacity constraints we're working under, identifying the investment needed to tackle these constraints".
'Important move'
Michael Roberts, chief executive of the Association of Train Operating Companies (Atoc), said passengers "now have more information about punctuality in this country than on the continent and more than travellers who fly or drive within Great Britain".
The new figures, released by NR and Atoc, were welcomed by Anthony Smith, chief executive of rail customer watchdog Passenger Focus.
He said it was "an important move", and that passengers had "always been suspicious of punctuality statistics that allow trains to be up to five or 10 minutes late and still count as on time".
Richard Price, chief executive of the Office of Rail Regulation, said: "Greater detail on rail punctuality gives passengers a clear picture of how Britain's rail services are performing".
But union chiefs were unimpressed.
Manuel Cortes, leader of the TSSA rail union, said: "These real time figures reveal what a complete farce NR's official figures really are."
Bob Crow, general secretary of the RMT transport union, called for more capacity to deal with demand and to improve performance.