Olympic torch: Flame to travel past Durdle Door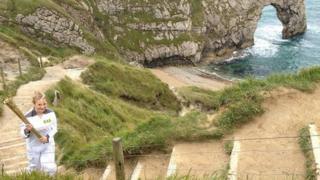 Durdle Door and Chesil Beach on Dorset's Jurassic Coast provided picturesque spots for the Olympic flame to visit on day 56 of torch relay.
The route from Portland Bill to Bournemouth also passed the house where Commander Bill Collins planned the 1948 relay on East Street in Corfe Castle.
The first of the day's 147 torchbearers started out at Pulpit Rock.
British sailor Giles Scott carried the flame in Weymouth which will host the London 2012 Olympic sailing events.
Judo champion
Scott, 24, has won World Championship bronze and European Championship gold but missed out on selection for the Games later this month.
Keen biathlete and triathlete Tom Mules, 16, who was chosen for his work as a young ambassador and with children with disabilities, ran with the torch at the famous headland Portland Bill to begin the relay's journey through 24 communities.
Great Britain judo player Sophie Johnstone then took her moment in the spotlight in Fortuneswell. Sophie is a two-time British Champion, has represented GB at two World Championships and won numerous World Cup and European Cup medals.
Charity fundraiser Vickie Matlock carried the flame to the vantage point overlooking Chesil Beach, which forms part of the Dorset and East Devon World Heritage Site known as the Jurassic Coast.
Later in the morning the flame was carried to Durdle Door, a natural limestone arch, by Lisa Devine who was elected for her dedication to swimming with Swim Bournemouth performance squad and her youth ambassador work.
There was a determined stint from the last torchbearer before lunch, Ben Ridd, who seven years ago was critically injured when two boats collided at a youth powerboat race in Portland.
Aged only 13 at the time, Mr Ridd was in a coma for three weeks after the crash and when he regained consciousness he was initially unable to talk, walk, feed himself or even stand up.
Carrying the flame in Swanage, the 20-year-old produced a superb effort to walk unaided and he received warm encouragement and lots of applause from spectators as well as the members of the torch security team.
In Upton, Wendy Morrell took up the relay with her assistance dog Udo by her side - her second appearance in an Olympic torch relay having taken part in the event in the lead up to the 2008 Games in Beijing.
Wendy, already a wheelchair user, held two national records and was training to represent Great Britain at archery when she sustained a brain injury during a training accident.
After being partnered with Udo, Wendy started advocacy on behalf of disabled people for better inclusion.
In Bournemouth a team of 10 pupils from Bournemouth Girls School carried the flame.
Throughout the day the flame travelled through Portland Bill, Southwell, Weston, Easton, Portland, Fortuneswell, Weymouth, Preston, Osmington, Winfrith Newburgh, Wool, Corfe Castle, Swanage, Stoborough, Wareham, Sandford, Lytchett Minster, Upton, Hamworthy, Poole, Ashley Cross, Branksome, Wallisdown and Bournemouth.
The day will end with entertainment on Bournemouth beach, with performances from Wretch 32, a dance troupe who will provide a unique fusion of street performance, theatre and sport and dance act Twist and Pulse.
A total of 8,000 people will carry the flame during its 8,000 mile, 70-day journey to the opening ceremony of the Olympic Games in London on 27 July.