Respite from rain as flood warnings remain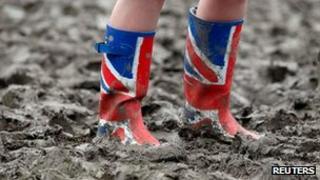 Most parts of the UK are experiencing the driest weather for days - but flood warnings remain in place in some areas.
The Environment Agency has 8 flood warnings and 38 alerts in England. However, there are no weather warnings for the first time in days.
According to legend, the UK will see downpours daily for 40 days if it rains on 15 July, known as St Swithin's Day.
The BBC's Peter Sloss said there would be some rain in western Scotland with a few light showers elsewhere.
He said the weather had improved markedly overnight with the last of the heavy showers clearing away from south-east England, where a Met Office yellow weather warning - meaning the public should be aware of heavy rain and localised flooding - had been in place.
But he said there would be more rain pushing across the country on Monday, with another belt on Wednesday making for a changeable week.
There are no weather warnings in force so this rain is not likely to be as heavy as recent downpours, he added.
Further flooding
Many parts of the UK remain saturated, following the wettest April-June quarter on record and further heavy rain in July.
Four flood warnings have been issued for the Midlands, with further warnings for the Anglian area, south-west and south-east of England.
Recent heavy rain and flooding has caused problems in many parts of the country:
Meanwhile, festival-goers at Latitude 2012 in Southwold, Suffolk, were rewarded for braving muddy conditions when the rain turned into sunshine on Saturday night ahead of a headlining set from Elbow.
On Saturday, Environment Secretary Caroline Spelman - responding to a report in the Guardian newspaper that cuts had left almost 300 flood defences unbuilt - said the government had "not axed promised flood defence schemes".
"Funding is awarded to new schemes on an annual basis and is not guaranteed in advance - no projects have been cancelled," she said.
"It's our absolute priority to protect homes and businesses from the devastation caused by floods. We are spending more than £2.17bn on preventing flooding - only 6% less than the previous spending period."
St Swithin was a 9th Century bishop in the Saxon kingdom of Wessex, whose feast day is on 15 July.
Legend has it that he asked to be buried humbly outside Winchester Cathedral when he died, but his remains were dug up in 971 and moved inside the building.
The act was said to have coincided with 40 days and 40 nights of violent storms, indicating his displeasure at being moved.