Mau Mau uprising: Hearing into alleged torture begins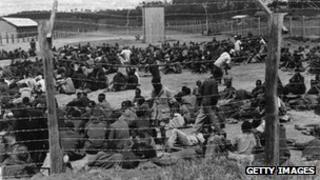 Three Kenyans alleging torture by UK colonial authorities during the Mau Mau uprising want to live their final years with dignity, a court has heard.
The three former Mau Mau fighters have taken their case for an apology and damages from the British government to the High Court in London.
Their lawyers have said they represent hundreds of Kenyans who were victims of brutality in the 1950s and 60s.
The Foreign Office said too much time had passed for a trial to be fair.
Barrister Guy Mansfield QC said it would be "contrary to principle and the balance of fairness" to allow the matter to proceed to trial.
In a written statement, he said the Foreign Office faced "irredeemable difficulties" in respect of the availability of witnesses and documents in defending the claim. Many of the witnesses it would have wanted to call were now dead, he said.
"Without those witnesses, and indeed with the necessarily limited recollections of those who do survive, the very complicated and difficult task of determining the competing factual positions cannot be fairly conducted," he said.
But, for the claimants, Richard Hermer QC said the existence of official records and other primary contemporary documentation meant a fair trial was possible despite the time that had passed.
Mr Hermer said evidence came from a wide range of different sources and could be checked and corroborated.
"It is going to take a long time, cost a lot of money and occupy court time. All that gives rise to notions of proportionality," he told Mr Justice McCombe.
"But, in a case of this importance, after a finding rejecting a strike-out application, the complexity, length and cost of the case should not impact on the exercise of your discretion."
Papers in the test case were first served on the UK in 2009.
In 2011, a High Court judge ruled the claimants - Paulo Muoka Nzili, Wambuga Wa Nyingi and Jane Muthoni Mara - did have an arguable case.
In his ruling, Mr Justice McCombe emphasised that he had not found there was systematic torture in the Kenyan camps nor that, if there was, the UK government was liable for what happened.
The claimants' lawyers allege that Mr Nzili was castrated, Mr Nyingi severely beaten and Mrs Mara subjected to appalling sexual abuse in detention camps during the rebellion.
A fourth claimant, Ndiku Mutwiwa Mutua, has died since the High Court ruling that the test case could go ahead.
The hearing will have access to an archive of 8,000 secret files that were sent back to Britain after Kenya gained its independence in 1963.
The claimants are being supported by the Kenyan government and three academic experts on the "Kenya Emergency", which lasted from 1952-60, have made lengthy statements in support of their allegations.
South African Archbishop Desmond Tutu has written to Prime Minister David Cameron accusing Britain of neglecting its human rights duties over the case.
The Nobel Peace Prize laureate said Britain's unwillingness to make amends was "strongly out of step with many other modern democracies that have been faced with historic allegations of abusive conduct".
The hearing was adjourned until Tuesday, when the claimants are expected to begin giving evidence.