Four remanded on terror charges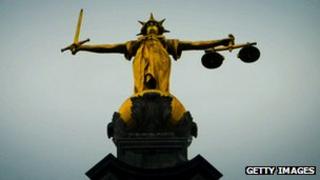 Three men accused of travelling to Pakistan for terrorism training, and a woman who allegedly possessed terrorist material, have appeared in court.
Richard Dart, 29, Jahangir Alom, 26, Imran Mahmood, 21, and Ruksana Begum, 22, have been remanded in custody until 31 July for an Old Bailey trial.
The men are accused of preparing for attacks of terrorism. Ms Begum is charged with possession of a document likely to be of use to a terrorist.
The defendants are all London-based.
They were arrested earlier in the month during a Metropolitan Police operation.
Mr Dart, from Ealing, Mr Mahmood, from Northolt, and Mr Alom, from Stratford, were charged with preparing for acts of terror, between July 2010 and July 2012.
They are also alleged to have travelled to Pakistan and elsewhere for training in terrorism and to have provided information to others about how to obtain terrorism training in Pakistan and terrorism training.
Ms Begum was charged with possession of a digital memory card containing a document likely to be of use to a terrorist.
All four were remanded in custody by district judge Howard Riddle.