Newspaper review: Harwood acquittal dominates papers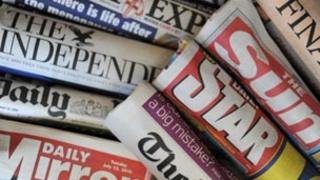 One story dominates the front page of most of the papers - the acquittal of PC Simon Harwood, who was accused of the manslaughter of Ian Tomlinson.
The Independent features a picture of PC Harwood with the headline "Not guilty. But no innocent" .
It questions why PC Harwood was on the front line after being accused of misconduct 10 times.
The Daily Mirror has the same thought. "His employment record is, to say the least, unenviable," it says.
Mayor's call
A 24-hour strike by Home Office staff in the PCS union a day before the Olympics is widely reported.
The Daily Mail says it "brings back depressing memories of the 1970s , when the country was held to ransom by tiny cliques of ego-driven militants".
In the Sun, London Mayor Boris Johnson writes that, despite strikes, the weather and lack of security guards, everybody should "stop whimpering".
"We are about to stage the greatest show on earth," he says.
Sporting history
A slim-shouldered 32-year-old from Kilburn in north London appears on the front pages of the Times, the Daily Telegraph and the Independent.
He is Bradley Wiggins - and he is on the verge of becoming the first British cyclist to win the Tour de France.
It is, says Owen Slot in the Times , one of the most astonishing achievements in British sporting history.
The Daily Telegraph says the French have taken Wiggins to their hearts - crying "Allez Wiggo!" as he whizzes by.
First words
The Independent says a flood of British fans are heading to Paris, hoping to watch Bradley Wiggins cross the line. Some are even cycling there.
The Daily Telegraph says there will not be much time for rest - Wiggins is going for Olympics gold on 1 August.
Some achievement for a cyclist who started at Herne Hill velodrome aged 12, reports the Times .
It speaks to Gary Beckett, who remembers Wiggins' first words at the track: "I want to race, please sir."