Newspaper review: Cash-in-hand comments sparks debate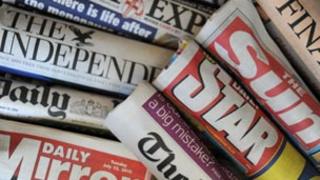 A debate rages in the newspapers over the comments of the Treasury minister David Gauke after he said paying tradesmen cash-in-hand for a discount was "morally wrong".
Sun columnist Rod Liddle argues cash-in-hand did not wreck our economy but politicians and greedy bankers did.
In the Daily Mail, Stephen Glover says billionaires and firms who avoid tax are the "really immoral".
The Daily Mirror points out Mr Gauke once worked for a law firm which helps slash tax bills of big companies.
Bonus pots
The chairman of the soon-to-be-scrapped Financial Services Authority is attacked by the Daily Express.
Lord Turner suggested free current accounts cause problems for banks.
But the Express says charging would "direct more money into the bonus pots of those who crashed the economy".
The charges brought against eight people in connection with alleged phone-hacking at the News of the World are the lead in the Times,Guardian, the Financial Times and the Independent.
Spanish woes
An analysis by the UK government has concluded that Greece could run out of money by August 20, a report in the Daily Telegraph says.
David Cameron is said to be receiving daily updates and was warned that Greek bankruptcy in the next month is now a serious possibility.
The Financial Times, meanwhile, says "politics is adding to Spanish woes".
An FT editorial urges a "greater sense of political competence in Madrid and decisiveness in Brussels".
'Intimidating' uniforms
As the Olympic opening ceremony draws ever closer, the Independent is among those to report that almost twice as many troops are now guarding the Games as there are serving in Afghanistan.
The Sun claims the Army has refused a request by organisers for troops guarding the Games to wear tracksuits.
A military source says their uniforms were deemed "too intimidating".
The Daily Mail awards border staff and Tube drivers "a gold medal for cynicism" for calling strikes.