Armitstead and Adlington medals just the start, papers say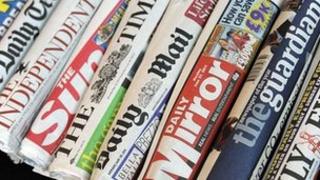 "It's girl power", is how the Daily Mail sums up the Olympic medals won by the British cyclist, Lizzie Armitstead, and the swimmer, Rebecca Adlington.
The Daily Express predicts their triumph will be "the beginning of great things to come , that will make us all even prouder to be British".
"Show on the road for Team GB" is the Daily Telegraph's headline .
The Guardian has "No gold, but plenty to cheer" and the Daily Mirror says simply: "We're off! Our first medals".
Sexism in sport
The Times has an in-depth interview with Armitstead.
She describes being frustrated by the sexism which she has experienced in cycling - and which she feels exists more widely in sport.
Armitstead is quoted as saying that she hopes to do something about it when her cycling career comes to an end.
"It's difficult to change things in a positive way," she tells the paper: "As a female athlete, you don't want to come across as negative and moaning".
Anger at NBC
The Telegraph reports that the Olympic opening ceremony soundtrack is the best seller on the iTunes stores in Britain, France, Belgium and Spain.
But the Independent says matters Olympic have not been going so well for US television network NBC.
It says that as the US men's basketball team played their first match, US viewers saw highlights of the women's cycling.
This has compounded anger generated by the decision to show an edited version of the opening ceremony, the paper claims.
'Triple-dip' recession
Fears that the UK's double-dip recession might evolve into a triple dip preoccupy several of the papers.
The Mail says business leaders are calling on Chancellor George Osborne to cut interest rates immediately.
The Mirror quotes an economist as saying Britain's financial fortunes will be boosted by the Olympics but are likely to deteriorate once again next spring.
Its editorial describes the triple dip warnings as "the final nails in George Osborne's economic coffin".