London 2012 Olympics: Q&A on drug testing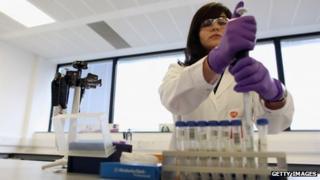 Drug testing at the Olympics has come into focus after a US coach raised suspicions about Chinese gold medal-winning swimmer Ye Shiwen's 400m individual medley performance. So how does testing work at the Games?
Q Who does the testing?
The International Olympic Committee (IOC) is responsible for the anti-doping programme during the period of the Games. That's longer than just competition time and is defined as between the opening of the Olympic Village, in London that was on 16 July, and the closing ceremony on 12 August.
The IOC had carried out 1,706 tests at these Games as of Tuesday morning - 1,344 urine tests and 362 blood tests. That number increases throughout the competition.
Q Who is tested, and where?
The first five finishers in every event are tested, plus two at random. They are tested immediately afterwards, in the venue.
In addition, there is random, unannounced testing, in the Olympic Village or wherever athletes are based during Games period.
Outside of accredited venues it is UK Anti-Doping which conducts those tests on behalf of Locog.
Q What has happened so far in London?
Albanian weightlifter Hysen Pulaku tested positive for the steroid stanozolol and was sent home from the Games.
Uzbekistan artistic gymnast Luiza Galiulina failed a test for banned diuretic furosemide. Her A sample tested positive the day before her competition and her B sample confirmed the result of the A sample which means that she has been excluded from the Games.
Q Why don't we hear about athletes passing tests once testers know the results?
IOC officials comment only when drug tests fail.
Test results are turned around in anything between 24 and 72 hours - as tests for some substances, like red blood cell-boosting hormone erythropoietin (EPO), can take longer.
Q What happens once an athlete tests positive at the Games?
As soon as there's a "violation" of the drugs testing policy - such as a positive test on an 'A' (first of two) sample or an athlete fails to respond to a request to go to the doping control station or fails to provide a sample - the IOC starts its "procedure".
The athlete can ask for their 'B' (second sample) to be tested and is always given the chance to be there, or send a representative, when it is opened.
The IOC's disciplinary commission will hear what the athlete has to say. The sports federation and the athlete's National Olympic Committee become involved.
Then, if the committee decides there is a violation, they will recommend a sanction, including being thrown out of the Olympic Games.
Further sanctions - like a ban from the sport for years or months - are then down to the individual sports federations.
If the B sample is negative then it is up to the Disciplinary Commission to decide how the result will affect the course of the procedure.