Newspaper review: Papers rejoice in Olympic gold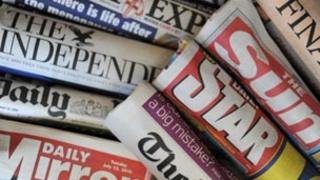 There is huge relief at Team GB's first gold medals of the London Olympics in the press.
The Guardian's headline is one word: "Phew!" while the Independent's is: "At last, a golden day for Britain".
The Daily Telegraph has no headline. Its front page is taken up by pictures of gold medallists Helen Glover and Heather Stanning, and Bradley Wiggins.
In the Sun's words, the medallists dramatically answered Britain's plea for Olympic gold.
Meanwhile, there is concern that, away from the Olympic Park, London has become what the Daily Mail calls a ghost town.
It blames the Mayor of London, Boris Johnson, for - in its words - driving millions away with his warnings of overcrowding and chaos.
Protest letter
The Financial Times says the government is discussing buying out private investors in Royal Bank of Scotland and fully nationalising it.
This comes amid frustration at the failure of banks to lend to businesses.
Twelve rock musicians have written to the Times calling on the Russian authorities to release the arrested punk group, Pussy Riot.
The letter - from figures including Jarvis Cocker, Neil Tennant and Peter Townshend - is timed to coincide with Mr Putin's visit to London on Thursday.
The Daily Express leads with a story of how a new pill may be able to help those with rheumatoid arthritis.
Doctors say those taking it had less pain than those on current treatments, the paper reports.
Legacy confusion
A church given £67,000 in a will is facing bankruptcy after it emerged the donation was meant for another church.
According to the Telegraph, the church spent £6,000 on roof repairs and invested the rest in a bond. But lawyers now want the money returned.
The Times says it appears that solicitors handling the bequest confused the two Kent churches.
The Holy Trinity, which spent the cash, is in Milton Regis while the other Holy Trinity is in Sittingbourne.