Who has inspired you today?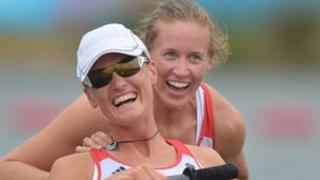 The London 2012 Olympic motto is 'inspire a generation' - and if the Team GB winners are anything to go by, it's a motto worth its weight in gold.
Helen Glover, who with partner Heather Stanning, won Team GB's first gold of the Games had not even attempted the sport until she was picked for the talent scheme Sporting Giants, launched by five-time Olympic gold medal-winning rower Sir Steve Redgrave.
"I hope my story can be an inspiration for kids in PE or at home thinking about taking up a new sport," she told the BBC.
Their gold was closely followed by another, as Bradley Wiggins became the most decorated Olympian in British history after winning the cycling time trial.
Who is inspiring you in the London 2012 Olympic and Paralympic Games?
BBC News website reader Jenny Nelson, from Dorset, emailed: "Since the Olympics began my two children have become obsessed with sport. My daughter has covered her bedroom walls in Rebecca Addington pictures, and my son now practises tennis non-stop."
Thank you for your contributions How London 2012 inspired me