Newspaper review: Team GB's gold rush celebrated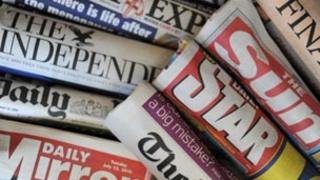 In Sunday's papers no superlative is left unsaid in celebration of the six Olympic gold medals won by Team GB.
The Observer talks of a "gold rush" on "Super Saturday". "Sensational" exclaims the Sunday Telegraph.
"What a glorious games!" says the Independent on Sunday, which highlights the achievements of Jessica Ennis, hailing her "a true Olympian".
The Mail on Sunday calls her "Britain's golden girl". "Yes, yes, Jess" says the Sunday Mirror.
'Electric atmosphere'
London 2012 chairman Lord Coe has columns in some of the papers marking the halfway point in the Games.
He writes in the Sunday Sun: "Presidents of international sport say our fans and volunteers have created a spine-tingling atmosphere."
It's no wonder, he says, that world records have been broken.
In the Sunday Times he talks of the "electric atmosphere" and how performances are applauded and appreciated by fans regardless of nationality.
Unsung heroes
The Sunday Telegraph pays tribute to what it calls "the other team that is making Britain proud".
"The thousands of volunteers... are an example to us all. Their purple uniforms have become a symbol of cheery, efficient assistance," the paper says.
"They show us how a big society could really work," says the Observer.
The Sunday Mirror calls them "the unsung heroes of the Olympics", unfailingly courteous and helpful.
Boris's standing
The Sunday Times says Tory party donors are throwing their support behind Boris Johnson as a possible future leader.
It says the mayor of London's standing has "soared" during the Olympics, naming several donors who say they are prepared to back him.
The Mail on Sunday says friends of David Cameron say he can never be prime minister because of "his colourful private life and buffoonery."
But Tory MP, Nadine Dorries says he wins elections and people love him.