Newspaper review: Olympic gold rush 'really happening'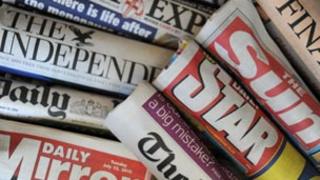 Some papers cannot quite believe Team GB's Olympic success - the Sun asks was it only seven days ago the nation was praying for Britain's first gold medal?
The Guardian assures readers the gold rush really is happening and asks them not to adjust their medals table.
The Daily Express says Games magic has seen record after record smashed.
The Daily Mirror says expectations have been utterly eclipsed. The Daily Telegraph wonders just how high the medal count can rise.
Patriotic jubilation
A number of papers believe Britain's Olympics performance will set back the cause of Scottish independence.
The Independent says the arguments in favour of unity had seemed economic.
But the scenes of patriotic jubilation suggest there is emotion too in the idea of a nation united, it adds.
Alice Thomson, in the Times, says the Olympics could be the start of an appreciation that these islands can produce astonishing results if only they can work together as a team.
US assault?
The Financial Times leads on the troubles affecting Standard Chartered.
The bank has rejected allegations by US regulators that it hid billions of pounds of transactions linked to Iran.
The paper says that, to Britain's bankers, it is looking increasingly like an assault on the City of London by the US authorities.
The Daily Mail says the case for a judge-led inquiry into the conduct of the City is unanswerable after a series of banking scandals in recent years.
Charity dancer
The Telegraph says the Royal British Legion has apologised to a burlesque dancer banned from collecting for it.
During the poppy appeal, Josephine Freestone wore a customised military uniform, fishnet tights and a corset while collecting in Sherborne, Dorset.
Despite raising hundreds, she was banned by the local legion branch.
That was overturned by the charity's headquarters which said she could carry on collecting "wherever, whenever and in whatever outfit she pleases".