Newspaper review: Press celebrate more Olympic gold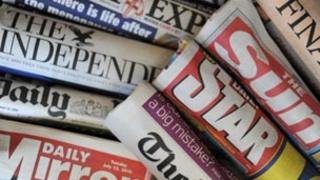 The Olympics dominate front pages with many concentrating on Thursday's British gold medallists, Nicola Adams, Charlotte Dujardin and Jade Jones.
The Daily Mirror calls them "golden girls" while for the Daily Express, they are "wonder women".
The Daily Star is "thrilled to Brits" by their success.
With the wins coming in dressage, boxing and taekwondo, the Daily Telegraph notes that they "struck gold in sports of beauty and brutality".
The Sun, rather more simplistically, notes that Team GB's women are "world beaters all - standing up as well as sitting down".
Lightning Bolt
Some papers put a different Olympian on their front page.
"The greatest" is the simple headline for the Telegraph, which pictures the victorious Usain Bolt.
"Lightning Bolt strikes twice - twice," says the Independent, noting that he is the first sprinter to win both the 100m and 200m at successive Games.
With one weekend of competition to go, many papers are looking ahead to the legacy of the games.
Some say that the feel-good factor brought about by Team GB's gold medal haul will not last forever.
Banking changes
The Telegraph features Prime Minister David Cameron in a cartoon, swinging a gold medal in the style of a stage hypnotist.
"When you wake up, you will continue to feel this wave of unrelenting euphoria," he implores.
The papers welcome Barclays' appointment of Sir David Walker to succeed Marcus Agius, who resigned as chairman over the Libor scandal.
The Financial Times says he will waste little time in clearing out the board.
The Independent says Sir David - who led a review of banking for the Labour government in 2009 - can now "practise what he preached".
The Times says he called for changes to bonus structures at British banks and says he could tackle that issue first.