Newspaper review: Papers revel in further Olympic glory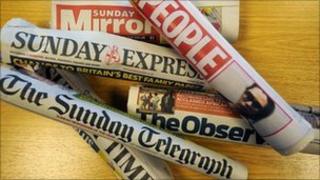 The Sunday papers are revelling in the gold medal triumphs of British athletes at the London Olympics for the second successive week.
Mo Farah's wide-eyed expression captured moments after he crossed the finish line of the 5,000m stares out from virtually every front page.
"Fly, Mo, Fly!" exclaims the Sunday Times, stating that he has "seized his place in athletic history".
The Sunday Mirror salutes what it calls a "Mo-ment of history".
Gold medals
The Sunday Express hails Farah's "Midas touch". The Sunday Telegraph declares Farah to be "our greatest athlete in the greatest Games".
The Mail on Sunday calls it "Super Saturday Two" after boxer Luke Campbell and kayaker Ed McKeever also won gold.
The Sun says that that success has "virtually assured" Britain's third place in the medal table.
The Daily Star Sunday describes it as "two of the most extraordinary weeks in our island story".
School sports
Many of the papers look ahead to the legacy of London 2012.
The Mail on Sunday reports that Locog chairman Lord Coe's reward will be a new role as the head of an Olympics legacy unit, based in the Cabinet Office.
As part of its campaign for more sport in schools, the Sun urges the government to "let the spirit of London 2012 live on in our classrooms".
Writing in the Sunday Times, former PM Tony Blair says the Games have taught the UK to "be ambitious".
Flight charge
The Mail on Sunday says unmanned drones could soon patrol the UK coast "looking for illegal immigrants and smugglers".
The paper claims the measure could be introduced if a similar plan in the Mediterranean is successful.
Sunday Express cartoonist Scott has a wry take on a report that families will be charged up to £80 extra to sit together on package holiday flights.
He has a couple in a travel agents with three crying babies, asking "can we pay extra NOT to sit next to our children?"