Newspaper review: Back to 'grim' reality after Olympics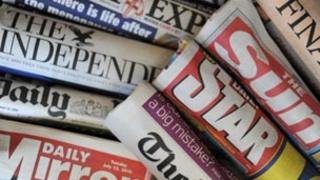 Many of Tuesday's newspapers continue to reflect on the success of the London 2012 Olympics, with more than a little sadness that it is at an end.
For all of the papers, the departure of the athletes is a reminder that - in the words of the Daily Express - the party is well and truly over.
The Daily Mail says the Olympics provided 17 days of joyously welcome distraction from our economic woes.
But all good things must come to an end, says the Independent. It is, the Guardian sighs, back to grim reality.
Games hangover
"What now?" asks the Guardian. The day after the closing ceremony was, for the newspaper's John Crace, a bad moment.
The Independent speaks of post-Olympics blues, and the Times of withdrawal symptoms from the competition.
They include describing your pre-bedtime routine of switching off the TV, turning off the lights and putting out the cat as the "closing ceremony".
And asking yourself "What would Clare Balding and Michael Johnson think?" when taking on something new, it says.
Ticket traumas
The Sun is simply pleased that the Paralympics are yet to come.
And they are set to be a sell-out, as fans gripped by Olympic mania scramble for the last tickets, the Times says.
But the Daily Telegraph reports that the ticketing problems that blighted the Olympics are now proving as frustrating for the next competition.
It says thousands have logged on to the official website to buy tickets, only to be told after entering payment details they were no longer available.
Shop until you drop
One Games legacy could be the scrapping of Sunday trading laws in England and Wales, which have been temporarily lifted until after the Paralympics.
But some writers are against the idea.
Philip Johnston, in the Telegraph, says opening big shops for longer will have an impact on the staff, who will see less of their families as a result.
In the Independent, Terence Blacker points out it could also harm smaller retailers, who are provided with a lifeline of trade by the current laws.
The Daily Mirror says one element of London 2012 we should seek to bottle for perpetuity is the spirit of friendliness and optimism that pulsated through the country during the Games.