Injured tourist leads warnings over balcony falls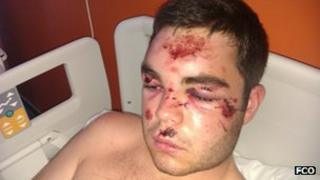 British tourists have been urged to "understand the risks" and "know their limits" after a spate of falls from hotel balconies in 2012.
The Foreign and Commonwealth Office (FCO) and Association of British Travel Agents (Abta) have launched a campaign to try to reduce the number of young people involved in balcony incidents.
Officials said that too much alcohol was often, though not always, a factor.
This year three Britons have died and 10 have been injured in balcony falls.
Nine of the falls were on the Spanish islands of Ibiza and Majorca, and the majority involved young adults aged between 18 and 35.
The figure already matches the number of incidents for the whole of 2011, despite it being only halfway through the summer season.
The three holidaymakers who died had all fallen from balconies in the Majorcan resort of Magaluf.
Many of the three million young tourists heading overseas this summer will receive leaflets featuring 18-year old Jake Evans, who fell seven floors after leaning too far over his balcony to retrieve a cigarette lighter during a holiday in the resort.
'Lucky I'm alive'
The Liverpudlian - who had been drinking heavily - collided with the edge of other balconies as he fell, landing on a sun lounger, which doctors believe probably saved his life.
Among his numerous injuries, the teenager sustained a fractured skull, a snapped right wrist, broken fingers and permanently damaged his back.
In a video of his story aimed at young holidaymakers, he said: "I'm actually really lucky, I shouldn't be alive. It's been a lesson to all my friends. Be careful, as this is what can happen.
"The only advice I could give is be sensible and drink responsibly. Try not to use balconies, or if you do, use them sensibly."
A year on, Mr Evans continues to suffer from the pain, and was unable to work for many months.
Paul Abrey, FCO consul in the Balearics, said there had been a "particular spike" in incidents early in the holiday season.
"We've already seen some tragic cases this summer which have had devastating consequences for the individuals and families concerned," he said.
"Some people have fallen whilst climbing to a friend's apartment; others have simply lost their footing after a few too many drinks, and a few have deliberately jumped off, aiming for the pool below.
"These practices are extremely dangerous and can cost them their life or leave them permanently disabled."
Mr Abrey urged young people to ensure they have comprehensive travel insurance, as the government does not pay medical bills.
Abta's head of destinations and sustainability, Nikki White, echoed Mr Abrey's plea.
"The after-effects are often made even worse through holidaymakers travelling uninsured and parents having to raise large amounts of money to get their children home.
"Our advice aims to help holidaymakers to use their balconies safely and prevent more of these tragic and avoidable incidents."