Neil Entwistle loses murder appeal case in US court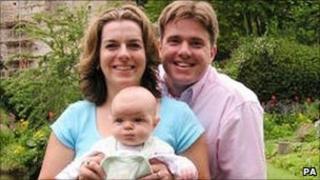 A British man jailed for life in the US in 2008 for shooting dead his American wife and baby daughter in 2006 has lost an appeal against his conviction.
Neil Entwistle, from Nottinghamshire was convicted of the murder of Rachel, 27, and nine-month-old Lillian Rose.
The 32-year-old's lawyer had argued that some of the evidence was illegally seized and that jurors may have been biased by media coverage of the case.
But Massachusetts Supreme Judicial Court ruled he had been tried fairly.
Former IT consultant Entwistle fled to the UK the day after the murders at the family's Massachusetts home in January 2006.
He was later extradited to the US for trial and sentenced to life imprisonment without the possibility of parole.
His bid for a retrial was filed at the state's Supreme Judicial Court in June 2011.
'Fair trial'
Lawyer Stephen Paul Maidman argued that two home searches by police were carried out without warrants and that the evidence seized should have been suppressed during the trial.
He also claimed that the judge did not thoroughly scrutinise potential jurors to identify any bias against Entwistle after "saturating and inflammatory" international news coverage before the case.
The judge presiding over the appeal decision, Justice Ralph Gants, told the court Entwistle had received a fair trial.
"None of the defendant's claims on appeal warrant reversal of the convictions," he said.
"We have reviewed the entire trial record and conclude that the defendant received a fair trial that was able tried and judged."
The searches by police had been justified because of the potential danger to residents at the time, and the jury selected was fair and impartial, the court heard.
Ruling out the retrial, the judge added: "The interests of justice do not require the entry of a verdict of a lesser degree of guilt on the murder convictions."
Neil and Rachel Entwistle had met through a rowing club when the Briton was studying at the University of York.
They married in 2003 and lived in Droitwich, Worcestershire, before moving to the US shortly after their daughter was born in 2005.
Mrs Entwistle taught at St Augustine's Catholic School in Redditch, Worcestershire, between 2002 and 2005.