Olympic equipment and memorabilia put up for auction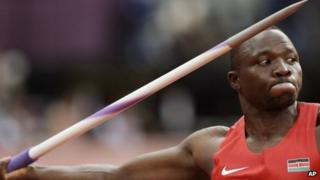 Sports equipment and ceremonial props are among thousands of Olympic mementoes which are being auctioned online by London 2012 organisers.
Lots include a table-tennis ball from the men's gold-medal match, currently with a bid of £142, a javelin at £605 and a Mary Poppins costume at £705.
A torch signed by Team GB cyclist Bradley Wiggins sold for £13,000.
Locog says the money raised will go towards covering the cost of staging the Games.
The proceeds will also subsidise additional costs incurred by selling the £500 Olympic torches to thousands of bearers at the discounted rate of £200.
In total 8,000 people carried torches during the 70-day relay.
Torches themselves - some of which are signed by athletes, including Sir Chris Hoy and Victoria Pendleton - are also being auctioned.
Locog says several thousand items will be sold, including javelins from the men's and women's contests and national flags from the opening ceremonies.
The US flag sold for more than £8,000, while China's - bidding for which is due to end soon - is currently going for £4,004.
Olympic memorabilia is also offered - a 1960 Rome Olympic torch forged from bronzed-aluminium and 39.5cm long - is going for £7,000, with another 15 days of bidding left.
However, those with less expansive bank accounts can still take heart.
Among more affordable items are a plastic rubbish-can drum from the opening ceremony at £25 and the official results sheet for the judo 90kg bronze-medal match (£60).
For the utilitarian-minded, fixtures, fittings and equipment are also being sold on another website, Remains of the Games.
On sale there are extension cords for £2.50 and an athlete's four-piece bedroom set (including bed) for £99.
London is not the first to sell memorabilia in order to raise funds towards the cost of putting on the Games.
In Vancouver after the 2010 Winter Olympics, sales of official merchandise made upwards of 100 million Canadian dollars (£64.4m).