Prince Philip spends night in hospital 'as precaution'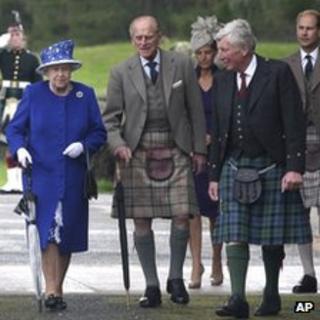 The Duke of Edinburgh has spent the night in hospital as a "precautionary measure", after the recurrence of a bladder infection.
Prince Philip, 91, was taken by ambulance to Aberdeen Royal Infirmary on Wednesday from Balmoral, where he had been staying with the Queen.
He had the original infection in June, and had been seen in public as recently as the morning of his latest setback.
The duke is likely to remain in the NHS hospital for the next few days.
Michael Dunkason, from Ryde, Isle of Wight, saw him on Wednesday morning in Cowes, where he had been attending public engagements.
He said: "The duke seemed in very good spirits and gave a final wave before entering the car."
BBC royal correspondent Peter Hunt said the duke was being assessed and treated with antibiotics intravenously.
His latest spell in hospital has come at the start of the Queen's Scottish summer break at Balmoral.
It is the third time Prince Philip, the longest-serving royal consort in British history, has been in hospital since just before Christmas.
'Bad luck'
He also spent four days in hospital over Christmas, following an operation to clear a blocked heart artery.
In March, Prince Harry said the operation - which was successful - had given his grandfather a "new spurt of life".
After attending events to mark the Queen's Diamond Jubilee in June, Prince Philip missed several days of festivities after being admitted to hospital for five nights with the bladder infection.
Since then he has been in apparently good health, joining the Queen at the opening ceremony of the London Olympics on 27 July, attending equestrian events at Greenwich Park, and touring the Olympic Park.
Our correspondent says the duke could miss the opening of the Paralympic Games by the Queen at the end of the month because he is likely to be told to rest when he is discharged from the hospital.
One expert said there could be a number of reasons for the recurrence in the infection.
Dr Eileen Burns, from the British Geriatrics Society, told the BBC bladder infections were common, "so it may just be bad luck".
Other explanations, she said, could be that immune systems become "less vigorous" in older people, and a risk of abnormalities within the urinary tract.
Stones within the bladder were another possible cause of infection, she added.