Newspaper review: Philip's health concerns papers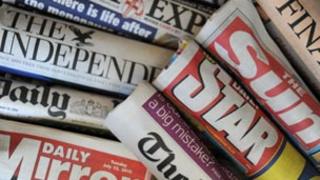 Prince Philip, who is in hospital in Aberdeen, is pictured on the front pages of many of Thursday's newspapers.
The Sun says that since falling ill at Christmas, the Duke of Edinburgh has been accompanied 24 hours a day by two doctors, who work on a shift system.
The paper's headline asks: "Isn't it time you took it easy, Philip?"
The Daily Mail points out that he is in hospital for the third time in eight months, while the Daily Telegraph says he is likely to be kept in for a few days.
'Old and dirty'
The decision to award the West Coast Mainline franchise to FirstGroup signals a debate on rail privatisation.
For the Daily Mirror's Paul Routledge it is time to bring back British Rail.
"Privatisation has been a boon for shareholders and fatcat bosses but a disaster for the travelling public and the taxpayer. Fares soared, the service isn't as good, yet subsidies are at record levels," he says.
But the Mail's Stephen Glover says he does not mourn British Rail. "I can remember old and dirty trains smelling of cigarettes, with all the suspension of a Chieftain tank, that were even less punctual than their modern counterparts," he writes.
Mayor 'cashes in'
A familiar blonde mop features on the Times and Independent front pages.
The Times says London Mayor Boris Johnson is "cashing in" on Olympic by putting pressure on the government to spend more in the capital.
Mr Johnson accuses the government of "pussyfooting around" plans for a new airport, and revealed plans for a network of cycle paths.
"It's an old idea that will not go away," says the Times, "For the simple reason that it is also a good idea."
'Muddy bangers'
The Times's David Aaronovitch considers the case of Wikileaks' Julian Assange, who is at the Ecuadorian embassy in London, seeking political asylum.
He says Mr Assange should go to Sweden to face sex assault claims. But if he is granted asylum, he says "the moment he puts a Hush Puppy on the pavement outside the embassy, he should feel a Metropolitan Police hand on his shoulder".
Finally, in the Mail, Quentin Letts reacts to news that actress Liz Hurley is moving to his county, Herefordshire.
The place is "old-fashioned and the better for it," he writes. "It is black wellies, not green; muddy bangers, not gleaming Range Rovers; hairy-eared hunting types, not Eurotrash polo sleeksters. Please don't try to change it."