Prince Philip: Police and media wait outside hospital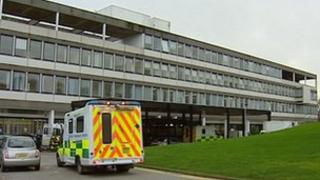 Police and numbers of media personnel remain outside the hospital where Prince Philip is still receiving treatment for a bladder infection.
The 91-year-old Duke of Edinburgh was taken to Aberdeen Royal Infirmary on Wednesday from Balmoral.
It is the duke's third hospital stay in nine months.
He has not had any visitors so far after doctors advised him to rest - but his family are said to have been in contact by phone.
The duke spent four days in hospital over Christmas, following an operation to clear a blocked heart artery.
And after attending events to mark the Queen's Diamond Jubilee in June, he was admitted to hospital for five nights, missing several days of festivities after sustaining a previous bladder infection.