Newspaper review: Julian Assange speech considered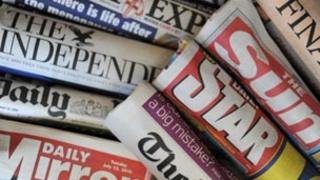 The Independent questions Julian Assange's failure to mention - during a speech - the allegations of sexual assault he faces in Sweden.
The Australian, 41, made a statement on the balcony of the London embassy of Ecuador, which has granted him asylum.
The Guardian says it was a PR triumph. The Sun calls it a pompous rant.
The Daily Mirror applauds his Wikileaks website for promoting official openness but says it should not exempt him from being extradited to Sweden.
Long list
The Independent says there are growing fears that the government plans to scrap rules forcing developers to build affordable housing.
The government thinks the rules are slowing the pace of building, it says.
But some groups say it must not happen with 1.8 million families waiting for affordable housing, it reports.
The Times, meanwhile, supports plans by think tank Policy Exchange for councils to sell their most valuable social housing to build cheaper homes.
Murray marriage?
The Financial Times says it is not clear whether Team GB's performance at the Olympics has worked for or against the idea of Scottish independence.
It cites the most recent Sunday Times poll suggesting 12% of Scots were more likely to vote yes as a result of the Games while 8% were less likely.
The piece is accompanied by a picture of Andy Murray with his two golds.
The Daily Express, meanwhile, says the Scottish tennis player will wed girlfriend Kim Sears next summer.
Nasty encounter
The Daily Telegraph reveals that the Queen's corgis are in the doghouse after getting into a fight with Princess Beatrice's Norfolk terrier.
The paper says that 11-year-old Max was badly injured and nearly lost an ear during the "nasty" encounter at Balmoral Castle last week.
The Daily Mail reports that the Queen was very upset when she was told.
It says the princess, who was not there at the time, later went up to Scotland to look after Max.