Mayoral role for Paralympic Games founder's daughter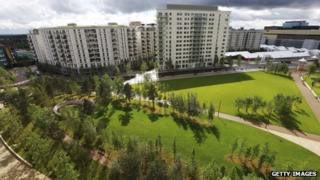 The daughter of Ludwig Guttman - founder of the Paralympic Games - has been appointed mayor of the London 2012 Paralympic Village.
Eva Loeffler has begun her duties by welcoming team officials, who started arriving in the village on Monday.
The competitors will start moving in on Wednesday, ahead of the Games beginning on 29 August.
The mayor's role includes hosting guests and dignitaries and speaking at events in the village.
She was a volunteer at the forerunner of the modern-day Paralympic Games at Stoke Mandeville Hospital in 1948 and was one of the original directors of the British Paralympic Association.
Mayor Loeffler said: "The development of Paralympic sport and the Paralympic Games has played a significant role in my life and I'm thrilled to be appointed Paralympic Village Mayor as the Games return to the UK.
"I'm really looking forward to working with the whole team to deliver an outstanding and memorable experience for village residents and visitors this summer."
The mayor will be supported by Liberal Democrat MP Menzies Campbell, an Olympian, and Don Foster, co-chairman of the Culture, Olympics, Media & Sport Parliamentary Committee and a member of the Olympic Board.
Meanwhile in Downing Street the official flag of the 2012 Paralympic Games has been raised - replacing the Olympic rings that have been flying over Number 10.
Prime Minister David Cameron wished all UK athletes luck and vowed to cheer them on at the biggest Paralympic Games to date.
He said: "The Paralympic Games began in Britain and our continued commitment to them is clear as we approach the start of the biggest Paralympic Games yet - with more countries, more athletes and more spectators than ever before.
"2012 is set to be a fantastic celebration of world-class sport and it is also an incredible opportunity for ParalympicsGB to inspire many others to be the best they can be."