Newspaper review: Enthusiasm for 'NHS abroad' plan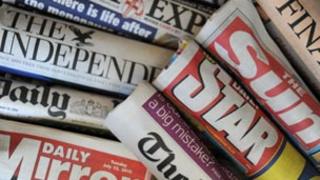 There is enthusiasm in Tuesday's papers for the government's plans to encourage NHS trusts to expand around the world as a way of raising money.
The Times suggests that Olympic opening ceremony creator Danny Boyle played "an unwitting part" in driving the scheme forward by showcasing it in a vivid song and dance routine.
It says international NHS outposts "may prove to be highly beneficial for patients, taxpayers and the health service".
The Independent agrees that selling "Britain's favourite acronym" is a clever idea. Health minister Lord Howe tells the paper that preliminary work overseas has convinced the government "this is a model that will fly".
Tale of two Scotts
As tributes pour in for the late film director Tony Scott, the Daily Mail reflects on his collaborations and rivalry with his elder brother, Ridley.
Its correspondent in New York, Tom Leonard, portrays Scott as a man who "owed his ascent" in Hollywood to his brother, working with him many times.
Meanwhile, Moors murderer Ian Brady is said by the Sun to have written an autobiography detailing his crimes.
A penpal of the killer is said to have revealed the existence of the book.
Sailor shortage?
The Daily Telegraph says the Royal Navy is in danger of having too few sailors to man its nuclear submarine fleet.
Quoting an internal MoD report, the paper speaks of "major pitfalls ahead", but the Navy says the report is designed to identify risks.
The Guardian says tax inspectors are trying to bar MPs from claiming thousands of pounds to hire accountants to file expenses and tax returns.
It says the authorities believe current rules only cover MPs' personal finances.
Sun-stopping plan
The Financial Times describes how Tesco is facing fines for allowing foreign employees to work longer shifts than their visas permit.
The Border Agency is said to have raided a Tesco office in south London and made 10 arrests. Tesco says it has tightened its procedures.
"Sunshades may save Barrier Reef" is the Telegraph's intriguing headline.
It reports on plans to cover coral reefs in Australia with cloths anchored by ropes floating on the ocean's surface to protect the reefs from the effects of climate change.