Newspaper review: Economic concerns occupy papers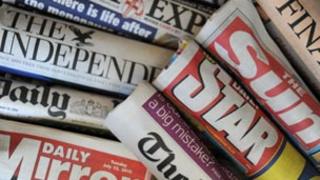 The consequences of the deterioration of the UK's public finances feature heavily in the papers.
The Independent picks up on the disclosure that the government had to unexpectedly borrow money in July.
The result, it says, will be even greater restrictions on public sector spending.
The Sun, fittingly, finds a mathematical formula to reach the same conclusion, its headline being "soaring debt = more cuts".
Growth push
The Daily Telegraph reports that the gloomy economic data inevitably means questions are being asked of Chancellor George Osborne.
Specifically, business leaders want to know what he intends to do break a "cycle of low economic confidence", it says.
The Guardian's Whitehall sources predict "a co-ordinated growth push across the government in September".
"Just one in six voters trusts the chancellor in the current economic situation," reports the Times.
Games ceremonies
The Guardian reflects on the lighting on Wednesday morning of the Paralympic torch on the highest peaks in England, Scotland, Wales and Northern Ireland.
It hopes the ceremonies will create what it calls a "new and powerful narrative for the Paralympics".
Images of some of Britain's hopefuls are on the front of the Independent.
Paralympian Martine Wright, a 7/7 survivor, tells the Daily Star that "something wonderful can come out of the darkest depths of your life".
Dog research
The Daily Mail leads on the use of anti-terror legislation by councils to investigate "minor offences" such as dog fouling and littering.
It reports that the act has been used 10,000 times in the last three years.
Finally, the Daily Telegraph quotes research from Helsinki that says dogs chasing their tails could be suffering from obsessive compulsive disorder.
The paper says scientists hope studying dogs will enable them to understand the condition better in humans.