Paralympic Games: Thousands more sports tickets on sale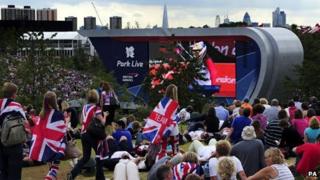 Paralympics organisers have put 40,000 more sports tickets and 100,000 ground entry tickets to the Olympic Park during the Games up for sale.
Locog said the sports tickets were for a range of events, including athletics and wheelchair basketball.
The non-sporting tickets cost up to £5 and are for various days throughout the Paralympics but do not grant admission to any sporting venues on the Park.
Some 2.3 million tickets have been sold for the Games which open on Wednesday.
Ticket sales have outstripped any previous Paralympics, with a total of 2.5 million expected to be made available in total.
The non-event tickets cost £5, and £1 for those aged under 16 or over 60, and are available for morning sessions between 10:00 BST and 15:00 BST and afternoon sessions from 16:00 BST until 21:00 BST.
They are available from the London 2012 ticket website.
These ticket-holders will be able to explore the Park and enter the Park Live area where a giant screen will show the sporting action.
However, they cannot gain access to any of the sporting venues.
Seb Coe, chair of Games organisers Locog, said: "I'm thrilled that we can give even more people the opportunity to experience the Olympic Park, soak up the atmosphere and perhaps catch some Paralympic action on the big screen.
"We wanted to give as many people as possible the opportunity to visit the Olympic Park and releasing more tickets is part of this commitment."
More sporting event tickets are due to be released during the Games on a session-by-session basis.
Aside from the non-event tickets there are four types of ticket for the Paralympics:
Reserved - for a specific seat for athletics, track cycling, swimming and medal events in some other sports
General admission - any seat for other Olympic Park sports plus rowing, equestrian, road cycling, events at the ExCeL arena, archery, shooting and wheelchair basketball. Some finals are excluded
Olympic Park day pass - access to sports including goalball, wheelchair basketball, wheelchair rugby, wheelchair tennis and football
ExCeL day pass - access to table tennis, judo, sitting volleyball, wheelchair fencing, powerlifting and boccia at the ExCeL arena.
Organisers Locog said the 45,000 sports tickets that went on sale last week were snapped up within three hours.