Newspaper review: Papers comment on Tony Nicklinson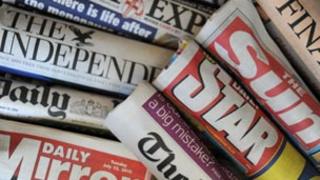 "Tony Nicklinson defied the judges, the doctors and the pro-life opponents who prolonged his suffering, and died despite them all," says the Times.
"This harrowing case should impel MPs to enact a 'Nicklinson's Law' giving others the legal option he craved," says the Independent.
"It's time to talk about dying," is the conclusion of a Guardian editorial.
However, the Daily Telegraph says his case was never about the right to die, but the right to be killed.
Austeritydanger
There is more pressure on Chancellor George Osborne after this week's worse-than-expected borrowing figures.
The Daily Telegraph says the most senior economist yet has warned that the government's austerity programme risks becoming self-defeating.
Kate Barker says Mr Osborne has left himself little room for manoeuvre by insisting that he cannot budge from his debt and deficit reduction targets.
The Guardian calls him "an isolated chancellor".
Energy bills
The Daily Express leads with the announcement by SSE of a 9% rise in gas and electricity prices and says there are fears other firms will follow suit.
"The rise will come as a massive blow to cash-strapped consumers praying for price cuts, not rises," the paper says.
"Conned again," is the verdict of the Sun, which says the rise is more than three times the rate of inflation.
"What is the energy regulator Ofgem going to do about it?" the paper asks. "Nothing. As usual," it says.
Crown jewels
The Sun, Daily Mail and Daily Mirror lead on the controversy over the naked photos of Prince Harry in Las Vegas.
According to the Daily Mail, "Prince Harry arrived home to a firestorm".
The Sun explains it was asked by the St James's Palace not to publish the pictures, and prints instead what it says is an exact reconstruction of one of them.
A Sun reporter called Harry strips off to stand in for the prince. The pose is described by the headline "Harry grabs the crown jewels".