Newspaper review: Sun takes plunge over Harry photos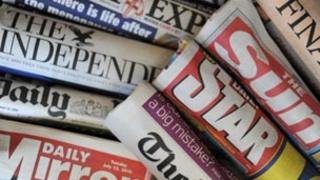 The Sun has taken the plunge and printed a photograph of Prince Harry naked at a party in Las Vegas.
Or, as the paper puts it, it is the "pic of naked Harry you've already seen on the internet".
The jokey tone is dropped, however, as the paper describes the matter as "a crucial test of Britain's free press".
It says the publication of the pictures on the internet generated a debate that millions of people could not take part in because they could not access them.
Case studies
Coverage of GCSE exam results is more subdued than usual, following news that the proportion of top grades dropped for the first time for almost 25 years.
The Times cites case studies from a number of schools that have seen a dramatic fall in their results.
The Daily Telegraph's comment is provided by a professor of education who welcomes the change.
"Much better to have a clear, sharp mirror than the distorting one that GCSEs had become," he says.
Richer homes
The Bank of England's economic stimulus plan has "lined the pockets of the rich", according to the Independent.
Its analysis of the Bank's report into quantitative easing finds the richest 10% of homes have benefited 240-times as much as the poorest.
The Financial Times says British tycoon Glenn Maud has had his living expenses cut to £500 a week by a Guernsey court.
Having once had a business empire worth £4.5bn, his property company failed in November and is now in administration.
Work jargon
The Times presents scientific analysis of wet weather, asking if it really does make people depressed.
The answer is yes - rain makes people unhappy to about the same degree as having to do housework.
The Daily Mail quotes a study that suggests one in five employees admits to talking waffle at work.
Those in London are most likely to resort to meaningless cliche, and the straightest talkers apparently come not from Yorkshire but the East Midlands.