Did the BBC's SOS message service help you?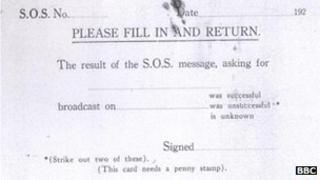 "Could Mrs Smith, believed to be travelling in Cornwall, please contact the hospital where her grandmother is dangerously ill."
That's just a sample of the many emergency messages broadcast on the SOS message service that ran for more than 70 years on BBC Radio.
In the days before mobile phones, the SOS service appealed for relatives of dying people, often on holiday and uncontactable, to return home before it was too late.
In a new programme for Radio 4, Eddie Mair tells the story of the service and hears from listeners whose lives were touched - and often dramatically changed - by an SOS message.
Thank you for your comments. You can listen to the programme on Tuesday 4 September at 8pm on Radio 4.