Newspaper review: GCSEs, Neil Armstrong and Prince Harry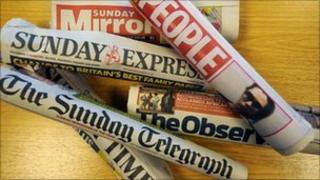 The anger in many schools about GCSE results is laid bare in the Observer, which says headteachers are demanding a "total re-mark" of English exams.
One head tells the paper the decision to increase the number of marks needed for a grade C was a "blatant unfairness" and had a "damaging effect on the life chances of young people".
The Independent on Sunday claims Rupert Murdoch ordered the Sun to print the photographs of Prince Harry naked.
It says Mr Murdoch was "furious" and felt British newspaper editors were cowed by the inquiry into press standards, being carried out by Lord Justice Leveson.
Quoting what it describes as a "well-placed source", the Independent says Mr Murdoch telephoned the chief executive of News International from New York, telling him: "We should run them - do it and say to (Lord) Leveson we are doing it for press freedom."
The death of Neil Armstrong - which was announced on Saturday night - prompts many papers to change the front pages of their later editions.
Speaking of the first man on the Moon, the the Sunday Mirror says he was a "hero to millions who pushed the boundaries of human endeavour".
With just three days to go before the start of the Paralympic Games, the the Sunday Express is concerned about the security arrangements, which it says have been scaled down enormously from the Olympics.
It points out some athletes are former soldiers who lost limbs in Afghanistan.
The Mail on Sunday says the Premier League is introducing a non-alcoholic alternative to the champagne normally presented to the man-of-the-match.
The move is said to have been prompted by a series of embarrassing incidents involving Muslim footballers, such as Manchester City's Yahya Toure, turning down the bubbly on live television.
From now on any Muslim man-of-the-match will be given a bottle of waard - a mixture of rosewater and pomegranate.
Finally, photographs of David and Samantha Cameron on holiday in Cornwall give the papers a chance to engage in something of a caption competition.
Picturing the couple eating plates of shellfish at Polzeath, the People imagines the prime minister is urging his wife to "Look at my mussels, Sam."
The Sun has Mrs Cameron telling her husband: "Don't be shellfish, Dave."
The Mail on Sunday headlines the picture: "Remind me Sam, why DO we come to Cornwall every year?"