Newspaper review: Goodbye to the Man on the Moon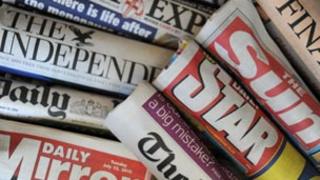 The shadow of Neil Armstrong still falls across the front pages, 36 hours after his death was announced.
The Times has a front page photo of Armstrong's shadow on the Moon which he took in 1969 and calls him "the reluctant hero".
The Guardian reprints the article it first ran on 21 July 1969, reporting that "men are on the Moon".
In its editorial "space exploration could be entering a new and exciting era and can yet recover its romance".
The latest allegations of a massacre in Syria prompt a fresh set of headlines, and what the Times calls "another wave of revulsion around the world".
The Guardian describes the incident as taking the Syrian civil war to "new heights of brutality".
Immigration minister Damian Green in the Daily Telegraph says the Tories have to appeal to modern Britain if they want to win the next election.
He said the Olympics opening ceremony was an example of modern Britain and he says the Conservatives must past the "Danny Boyle test".
A former adviser to Health Secretary Andrew Lansley has given an interview to the Independent accusing him of a "derelicton of duty" over what it calls Britain's obesity epidemic.
The Financial Times says Deutsche Bank has tightened its rules so staff can be stripped of bonuses earned while working for a previous employer.
Pay consultants tell the FT the rule is unusual and possibly unique in the banking world.
The paper says European banks are under pressure to claw back bonuses.
This summer has been one of the worst in recent memory but the rain failed to dissuade hundreds of surfers flocking to Woolacombe in Devon at the weekend.
The Daily Mail carries a huge photo of the crowded beach.
Finally the Daily Mirror carries a story about a supermarket where 74 members of staff are related.
Almost a third of the 247 staff at Morrisons in Bridlington, East Yorkshire, are married or have parents or sibling co-workers.