Newspaper review: Paralympic opening ceremony proves a winner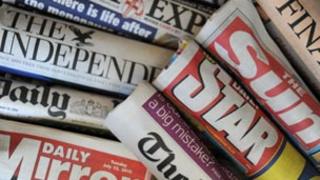 Images of the Paralympic Games opening ceremony dominate the front pages, as it proves a hit with the UK press.
For the Daily Mirror, it was an evening of excitement and inspiration that celebrated the human spirit, making viewers believe anything was possible.
The Guardian says the show cast a spotlight on the role of science in helping to change social attitudes towards disability.
It sums up the ceremony as a "thought-provoking, expectation-defying, moving and occasionally challenging romp".
'Look at the stars'
The Independent is in no doubt that the star of the show was renowned physicist, Professor Stephen Hawking.
The Times and the Independent highlight his words to the audience, in which he urged them to look to the stars and wonder what makes the universe exist.
The Daily Express says the show was "light years away" from the first Games at Stoke Mandeville Hospital in 1948.
The Sun feels the Paralympics came home on a scale that war veterans who took part in that Games could scarcely have imagined.
'Bright and busy'
It describes the show as "out of this world" and says the London Games "burst into life with a big bang".
For the Daily Telegraph, the ceremony marked a break with the insipid opening ceremonies of previous Paralympics.
In the paper's words, it was a "bright and busy extravaganza, celebrating the spirit and possibilities within us".
It believes the athletes now have a huge opportunity to demonstrate the stirring abilities of the disabled to a sympathetic new audience.
'Fairer share'
Many of the papers cast a critical eye over Nick Clegg's call for the rich to pay more tax for a limited period to help the economy.
The Daily Mail accuses the deputy prime minister of a "risible display of student politics", saying the move could drive wealth creators and jobs abroad.
But the Independent says it merits consideration as a way for the rich to pay what many see as a fairer share.
The Guardian agrees but warns Mr Clegg of the dangers of floating ideas that he cannot be confident of delivering.