Newspaper review: Paralympic 'Golden wonders' get top billing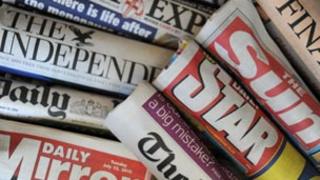 The first day of action at the London 2012 Paralympics receives top billing in many of Friday's newspapers.
The Daily Telegraph devotes its front page to cyclist Sarah Storey, the first British athlete to win a gold medal.
It says: "We were told to expect the extraordinary," and competitors made good on their promise, delivering "courage, determination and plenty of medals".
It pays tribute to Jonathan Fox, who managed a feat no GB Olympic athlete achieved by winning gold in the pool.
'Royal cheerleaders'
"Our Golden Wonders" is the headline in the Daily Mail, which celebrates the achievements of Fox and Storey.
The paper points out that while Team GB failed to win a single medal on the opening day of the Olympics, ParalympicsGB managed to take seven.
The Guardian says union jacks fluttered, royal cheerleaders assumed their positions and the British public rose to acclaim its new heroes.
The first day was a compelling appetiser, says the Independent.
'Derisory coverage'
The roar in the Aquatics Centre was never louder, the paper says, than when two swimmers, both without arms, won backstroke 100m golds, setting new world records in the process.
The Times highlights criticism for the American broadcaster NBC for its limited coverage of the Paralympics.
While Channel 4 attracted millions of viewers for the opening ceremony, NBC is waiting until 16 September to show a 90-minute special on the Games.
The paper describes it as an "almost derisory" level of coverage.
'Three cheers'
Meanwhile, the UK Border Agency gets three cheers from the Sun for banning London Metropolitan University from teaching and recruiting foreign students.
It hopes that the crackdown proves that the issue of immigration is being taken seriously.
But the Financial Times believes the government has become a prisoner of its own flawed immigration policy. Having undertaken to cut immigration, it is now casting around for ways to do so.
The paper argues that the government should remove students from the cap on immigration.