Newspaper review: British Paralympians abound in papers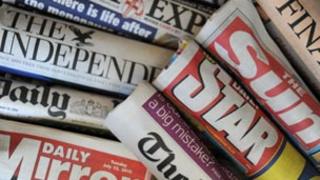 Pictures of British Paralympians abound in every newspaper.
There is a shot of a furious and finger-pointing Jody Cundy on the front page of the Guardian.
It was taken after he was disqualified from the cycling time trial.
The paper says if there was a scintilla of doubt that Paralympic sport is as brutal, raw and arbitrary as its Olympic counterpart, then an extraordinary five minutes in the Velodrome must have utterly removed it.
Boxers' fight
Martine Wright, a sitting volleyball competitor, looks more cheerful on the front of the Times.
"I was meant to do this journey," says Martine, who lost her legs in the 7 July London bombings.
The Sun has tracked down the entire squad of boxers from Cameroon who disappeared during the Olympic Games.
The paper says under Olympic rules they are allowed to stay until their visas expire in November - but after that they might have a fight on their hands.
Party strategy
Reshuffle season is in full swing and Conservative Party chair that she would like to stay in her job, given the choice.
She says her party needs more voters who live in the north of England, who are working class and who are women.
But the Independent says David Cameron wants to improve his party's strategy by installing a new chairman.
It says Housing Minister Grant Shapps is favourite to take over.
House prices
The Daily Mail leads with Dominic and Octavia Orchard, who are expecting a surrogate child they say they have paid an impoverished Indian woman to carry.
The paper says the Oxfordshire couple travelled to Hyderabad to get around the UK ban on commercial surrogacy.
The Daily Express says UK house prices shot up last month, recording the biggest rise for two-and-a-half years.
The surprise increase, despite the continuing recession, is good news for homeowners, says the Express.