National Lottery 'second place' beats jackpot prize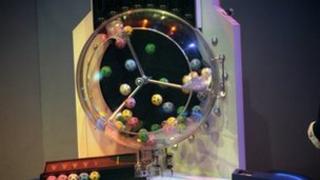 Five winners who shared Saturday's £4.8m National Lottery jackpot will actually receive less than the single ticket-holder who matched five numbers plus the bonus ball.
The "second placed" ticket is worth nearly £1.5m to its holder, while the jackpot winners - who matched all six balls - will get £968,000 each.
National Lottery organiser Camelot described the situation as "very rare".
It arose because of the way the prize fund is divided between winners.
Camelot said the jackpot winners shared 52% of the prize fund once the £10 winners had been paid, but the five-plus-one winner had their 16% allocation to themselves.
The winning numbers were 49, 41, 39, 36, 15, 30 and the bonus number was 2.
A spokesman for Camelot said: "That's the beauty of the lottery - you never know what's going to happen.
"It's certainly very rare, but at the end of the day we have six big winners who have won life-changing money and we think it's fantastic news."