Newspaper review: What will PM's reshuffle bring?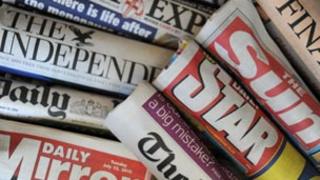 Many of Tuesday's newspapers speculate on what Prime Minister David Cameron's imminent cabinet reshuffle might look like.
With most senior ministers expected to remain in their posts, the Times thinks it will be more "secateurs in the Rose Garden" than "a night of the long knives".
The Independent believes the most likely outcome of Tuesday's reshuffle will be "more of the same".
For the Daily Telegraph, it does not matter "a jot" who is around the cabinet table, so long as they are resolutely committed - both Tories and Lib Dems - to getting the economy moving.
'Comprehensive clear-out'
The Daily Mirror is scathing about what it describes as "shuffling to failure".
"Ministers you've never heard of will be bumped from jobs you didn't know they held to accommodate politicians who are barely household names in their own flats," the newspaper says.
The Sun believes one decision is a "no-brainer" - to give Justice Secretary Ken Clarke his marching orders.
The Guardian is among the newspapers predicting a "comprehensive clear-out" of ministers who have failed to deliver.
'Two objectives'
It says this is Mr Cameron's one and only chance to recast the coalition and his decisions will help to define and reveal his judgement and his politics.
The Financial Times says it is clear that he has two objectives in mind.
One is to inject a fighting spirit into what it calls "the listing coalition". The second is to promote bright young ministers with a record of delivery.
The Daily Express says Mr Cameron is wise to freshen up his team but the blame for any future under-performance will be laid at his door, not theirs.
'Glad clothes are on'
Finally, a routine royal engagement is featured in most of the newspapers.
Prince Harry has appeared at an awards ceremony for seriously ill youngsters and the doctors and nurses who care for them. It was his first public outing since pictures of him naked in Las Vegas went online and in the Sun.
The Times says it was always certain there would be no escaping the subject of what he got up to on his holidays.
But the Sun says the prince did at least manage to intercept six-year-old Alex Logan before he could could carry out his threat to say he was glad the prince had clothes on.