Late trains could cost Network Rail millions in regulator fines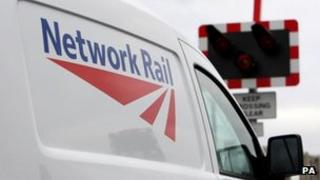 Network Rail (NR) is failing to deliver plans to improve long-distance train punctuality and potentially faces a large fine, rail regulators have said.
The Office of Rail Regulation (ORR) said the rail infrastructure company faces a multi-million pound fine if it misses lateness targets for 2013-14.
The ORR identified "serious problems affecting some services," despite some improvements.
NR said it recognised it was "falling short" on some performance targets.
The ORR based its analysis on the firm's performance between 1 April and 21 July 2012.
At the end of this period, the ORR found 88.9% of long-distance trains arrived at their final destination within 10 minutes of the advertised time.
'Financial penalty'
The regulator said that figure fell 2.2 percentage points below where punctuality should have been, and 0.4 percentage points below that set out in NR's recovery plan.
The ORR said: "We have requested that NR quickly identifies what has gone wrong and explain how it will recover the position for 2012-13.
"When this has been completed, the rail regulator will consider what further action to take."
However, the regulator said if NR failed to deliver targets for 2013-14 it will face a "substantial financial penalty".
The ORR added: "The size of any financial penalty will reflect the extent of NR's failure to meet the commitment, increasing by £1.5 million per 0.1 percentage point it drops below the 92% punctuality target."
NR's network operations managing director Robin Gisby said the rail industry's performance levels were "among the best in Europe", but conceded the company had failed to meet some of the "tough" targets set by the regulator.
"Volumes are high and growing and where the industry has focused its efforts, there have been improvements. More passengers are arriving on time on more trains than ever before.
"At the same time, we recognise we are falling short on some very tough performance targets set by the ORR and are determined to make further improvements, working closely with our industry partners," he said.
Mr Gisby added that over 90% of trains on the network arrived on time.