Newspaper review: Papers speculate on French shootings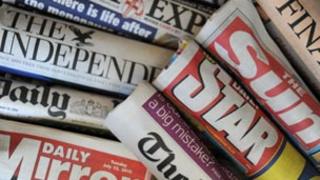 The murder investigation in the French Alps centred around a British-registered car is the main story for the Daily Mail, Daily Express, Daily Mirror and the Sun.
The Mirror speculates that the murders were a result of a botched carjacking.
According to the Sun, the ferocity of the attack suggested gunmen who were professional hitmen.
The Mail says one theory is that the cyclist whose body was found near the car was killed to silence them.
Planning rules
The Times, and Guardian lead on the package of measures the coalition is announcing to try to boost house-building and revive the economy.
The Telegraph says proposals to ease planning rules for large conservatories and extensions are aimed at encouraging a home improvements boom.
The Guardian calls it a free-for-all for house extensions.
Shadow Chancellor Ed Balls sets out his plans for a mansion tax on homes worth more than £2m in The Independent.
Bad news
Some papers have behind-the-scenes accounts of what the Times calls the "tantrums" of ministers who were losing their jobs in the cabinet reshuffle.
It says Caroline Spelman openly challenged David Cameron's decision to sack her from environment.
Justine Greening is understood to have shouted at the prime minister when he said he was moving her from transport.
The Sun says three minister - Cheryl Gillan, Ms Spelman and an unnamed man - wept as they were given the bad news.
Airport capacity
There is frustration that a commission set up to look at airport capacity will not report until after the election.
Is this the PM who promised only days ago to "cut through the dither" holding the country back?, the Daily Mail asks.
The Daily Telegraph says there is no obvious reason to believe it will reach a conclusion any more acceptable to competing political interests.
The Sun wonders what use reporting in three years will be when China will have built 70 airports in that time.