Newspaper review: Murray drama is all online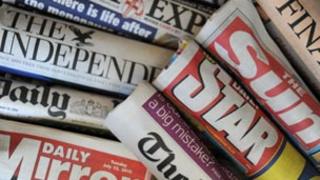 Andy Murray's historic US Open victory came too late for the morning newspapers but they all carried the story on their websites.
"Yankee Doodle Andy!" is the shout of triumph on The Sun website.
As for the five-hour match - it was, according to the online edition of the Mirror, "titanic", while the Daily Mail called it "nail-biting".
The Daily Telegraph said a gusting wind meant "the ball was dancing around...like a fly in a jam jar".
But, in the end, The Guardian says, this was a "fairy tale of New York".
In the view of The Independent "there could not be a more deserving champion" and Murray has achieved "his lifetime's ambition."
The Telegraph says "the man from Dunblane has certainly done it the hard way".
Many papers look back fondly at the Olympics and Paralympics - the Mail calls the summer of 2012 100 days of living "in a bunting-draped cocoon of exuberance".
Monday was "the final glorious swansong," says The Times.
The Guardian calls it "the last hurrah" and its chief sports writer Richard Williams homes in on the moments of "visual poetry".
The murderous attack on a British family in the Alps continues to appal and intrigue.
One couple who were staying at the same campsite as the al-Hillis told the Sun they had seen a smartly dressed man, possibly from the Balkans, hanging around and looking suspicious.
The first words spoken by the couple's wounded daughter lead the Daily Express to say "the seven-year-old clearly remembers parts of the attack".
The Daily Star says the gunman used a silenced pistol - and the fact 25 bullets were fired suggests it was carried out by a contract killer.
Finally the Mirror says a plaque has been placed on a chair in The Griffin pub in Warmley, Gloucestershire, where Arthur Reid, 90, has enjoyed a pint every day for the past 72 years. It calls him Britain's "most regular regular".