Alps shootings: French judge and prosecutor to visit UK
11 September 2012

From the section

UK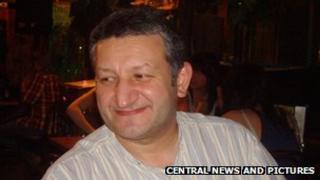 A French investigating judge and a prosecutor will travel to the UK as part of the investigation into the murder of a family in the Alps, a source has told news agency AFP.
British man Saad al-Hilli was shot dead with his wife, mother-in-law and a cyclist in the French Alps last week.
His two daughters survived the attack.
The source told the news agency that the judge and prosecutor would be in the UK to boost co-operation with investigators and monitor progress.
'No sign of life'
Meanwhile, a walker has described the moment he came across the scene of the shooting, which happened close to the tourist destination of Lake Annecy, in Chevaline.
The man, named only as Philippe D, 41, told France's Le Parisien newspaper he was unable to rouse seven-year-old Zainab al-Hilli, who had been shot and beaten, believing she was dead as she lay on the ground close to the family car.
He said the situation resembled a scene from a film and said there was an eerie silence in the remote car park where the four people were shot dead.
The witness said he set out with two friends to go walking and was met by a "panic-stricken" British cyclist - a retired RAF serviceman - in the Combe d'Ire forest. The Briton tried to explain in French the scene he had discovered, the witness was reported as saying.
The witness said: "I approached the car. I did not touch anything but I saw that there was nothing that could be done. There was no sign of life."
Speaking about Zainab, he said: "She did not respond when we addressed her. I clapped my hands but she did not react. I even spoke a few words of English because I saw that the car had a British number plate but nothing happened. As far as I could tell, she was dead."
A manager at the Village Camping Europa site in St Jorioz said the family had arrived on the Saturday and left two days later.
"That was pre-planned - they were here for just a few days," she said.
The family were staying in a caravan at the neighbouring Le Solitaire du Lac campsite when the killings happened.
Spoken to daughter
Investigators have said that only one gun was used in the attack.
Officials told reporters in Annecy that ballistics tests found 25 spent cartridges left at the scene came from a 7.65mm calibre semi-automatic pistol.
It also emerged on Monday that French police had spoken briefly to Zainab but were still waiting to question her fully.
Her four-year-old sister, Zeena, has returned to the UK.
She lay undiscovered for eight hours in the car after Wednesday's attack.
French investigators, assisted by British officers, started examining the Claygate home of Mr al-Hilli, 50, on Saturday as part of an attempt to establish a motive for the murders.